Archive for November, 2013
Bigfoot likes to grow plants in the woods because it is his home.  This is Podophyllum peltatum 'Missouri May', a pink flowering form of the native Mayapple.  He would like to try a fruit sometime, but didn't find one this year.  One of these years maybe, but I bet a raccoon will beat him to it.  He just is just too busy being Bigfoot, lots of humans to sneak up on.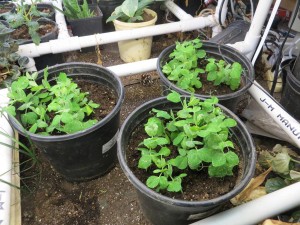 Bigfoot likes to eat peas, so he is growing them inside this winter.  He planted a variety called Tom Thumb that he got from Seed Savers Exchange.  It is supposed to only take 50-55 days until harvest and they only get  8″ tall.  Perfect for planting inside in pots.  He planted the seeds on October 12, 2013 and they germinated on October 18, 2013.  He is just waiting now for them to start blooming.  He wonders how fast they will mature indoors.