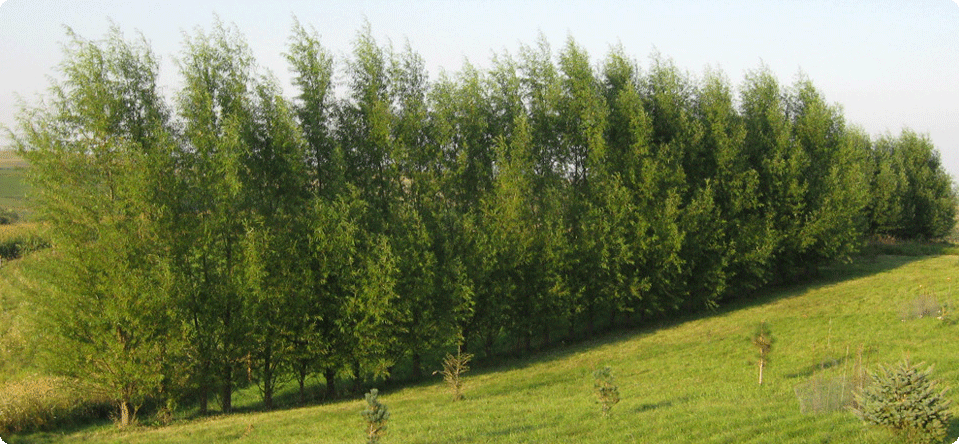 Fast Growing Trees
The Bigfoot Willow Hybrid
is one of the many fast growing hybrid willows I am currently growing. This willow hybrid clone has been my fastest growing tree in Iowa. The Bigfoot Hybrid Willow is disease-resistant and adaptable to many planting sites, soils, and regions of the U.S. With their hybrid vigor, these fast growing trees have been known to grow up to 15 ft a year in northern locations and have the ability to surpass 20 ft a year in the longer growing seasons of the south. Through experience in my Iowa location, it is quite feasible for the Bigfoot Willow Hybrid tree to reach 20-30 ft tall after two growing seasons.
Since Bigfoot Hybrid Willows have fast growth rates and good form, they are used frequently for privacy screens, windbreaks, and also as a quick growing shade tree. When planting for shade, the fast growing hybrid trees can be planted at a wide spacing. If used for quick growing privacy screens or dense windbreaks, planting the hybrid willows at a close spacing will quickly fill in for your desired use.
Check out all the pics and information on my website and see what the Bigfoot Willow Hybrid can do for you.
Click on the links below of the current fast growing trees I have for sale:

Bigfoot Willow 6' Staff
Bigfoot Willow 8' Stake
Bigfoot Willow 12' Post
Bigfoot Willow 20' Pole
Juggernaut Willow 6' Staff